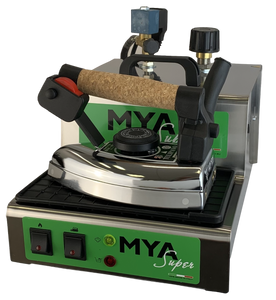 CHARACTERISTICS
INOX (stainless steel) body

INOX 18/10 Bolier.

Boiler capacity: 2,5 LT

Professional Tulipano iron: 800w

Ironing autonomy: 3h

Average pressure: 2,8 bar

Adjustable external solenoid for arranging steam

Separate boiler and iron switch

Steam ready light

End of water light

Pressure switch

Overpressure valve

Manometer

Boiler power: 1300w

Cap with safety valve

Silicone iron rest.

Wire support beam

Dim. 26x36x28cm.
OPTIONAL:
Water drain

Anti-drip filling bottle

Iron shoe

Steam calbe cover